Larry Burleigh, DC
Dr. Burleigh is a native Texan who was raised in the Sagemont area of Southeast Houston. He graduated from the University of St. Thomas and subsequently from Texas Chiropractic College where he received his Doctor of Chiropractic. He has over 29 years of practice experience with special training involving muscle and ligament injuries resulting from auto related accidents. Dr. Burleigh can evaluate and develop treatment programs specific to your needs and help to return you back to your active lifestyle. The doctor is married and has a 17 year old daughter and a 13 year old son. The doctor and his family reside in the Cypress Community.
Carrie Burleigh, RT/PTA
Carrie has a background in respiratory and physical therapy rehab. Carrie often assists with rehab plans in order to get you moving more easily and to return you back to your normal active life style. Carrie also is the program director for Burleigh Health Center & Rehab.
Alyssa Kuhn, DPT
Dr. Kuhn comes to us from Southeast Virginia after moving to the Cypress area in 2018. She has been a Physical Therapist since receiving her Doctor of Physical Therapy from Old Dominion University in 2005. She has worked in an outpatient hospital setting for 5 years with patients with diagnoses of neurologic, orthopedic, vascular and oncologic origins. She was in management for several years before stepping down to allow more time for patient care. The last 5 years in Virginia she focused on cancer rehab and vestibular disorders before moving to Texas. She truly loves assisting patients in maximizing their function and returning to their lifestyle. She enjoys time with her family outdoors and exploring the state of Texas. Dr. Kuhn is our lead physical therapist. She looks forward to helping you meet your goals.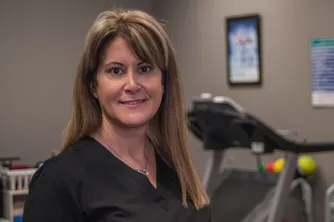 Stephanie Harrison
Stephanie is our office manager and secondary therapy tech. Stephanie can verify your insurance benefits as well as to assist you with payment arrangements that are affordable to everyone. She also takes an active role in therapy management.
Amanda Eshenbaugh
Amanda is our primary therapy tech. She has over 7 years experience in outpatient rehab. She documents and assists in all phases of patient care.
---